Introducing Ali Tovey who qualified from our BTEC Diploma in Soft Tissue Therapy in May 2017.
What were you doing before you decided to do the OSSM diploma?
I had run my own residential lettings inventory company since 2000
What things did you have to consider before enrolling on the course?
Age – at 50 would I be able to return to study? What about the upheaval and risk of changing career in my 50's. And would my body be able to cope with the physicality of being a therapist?
Working outside the regular 9-5 – In my previous career I had steered away from working evenings and weekends but these would be important if I became a professional soft tissue therapist.
How comfortable would I be becoming a therapist with the close daily physical contact between me and all sexes? Also had to consider the mental output and engagement required to be a good therapist and the security implications when working alone with just a male client for company!
There were financial implications too: as well as paying for the course I needed to downscale my very hectic work schedule, and therefore income, in order to be able to attend weekend lectures and complete papers. I also wanted to have enough money to support me and the setting up of the new business until it became established – all achievable, and only 2 years later (although I am still paying off the loan I took) I am already earning 25% more than I was before with additional room to grow the business.
For me, it was important to consider the long-term financial benefit and job satisfaction compared to the short-term hard slog and career juggling/sacrifices of week day and evening freedom.
What were your course highlights?
My course mates were a really good, friendly bunch with plenty of team giggles and there was lots of morale boosting between students and staff when it got tough.
I was also impressed with the quality of the tutors – they are outstanding in their knowledge and support and I'm still in awe – will I ever know that much?!!
I valued the support from HQ when things didn't go according to plan on the health front and my papers became impossible to complete on time.
And of course being on the receiving end of fellow students practising their massage skills meant my body has never been so loose!
What happened after the course?
We got very drunk! Then, once the hangover passed, I finished off my papers which had run seriously behind due to an auto-immune diagnosis mid-way through the course. I also traded massages with an internet savvy friend who helped me design my logo and website which I think was very important to do quickly before my official launch to add gravitas to my business model – and lots of people do comment on the name/content and its relevancy to what I do. Then in February 2017 after doing a few months of mobile and working in an all ladies gym to get some experience of people paying for my services, I took the plunge and committed £300 per month to a treatment room share within a local salon – scary at the time as it was very early days but I have never looked back! I broke even on the first month, I was in profit by the second month and I have a regular stream of client referrals coming my way.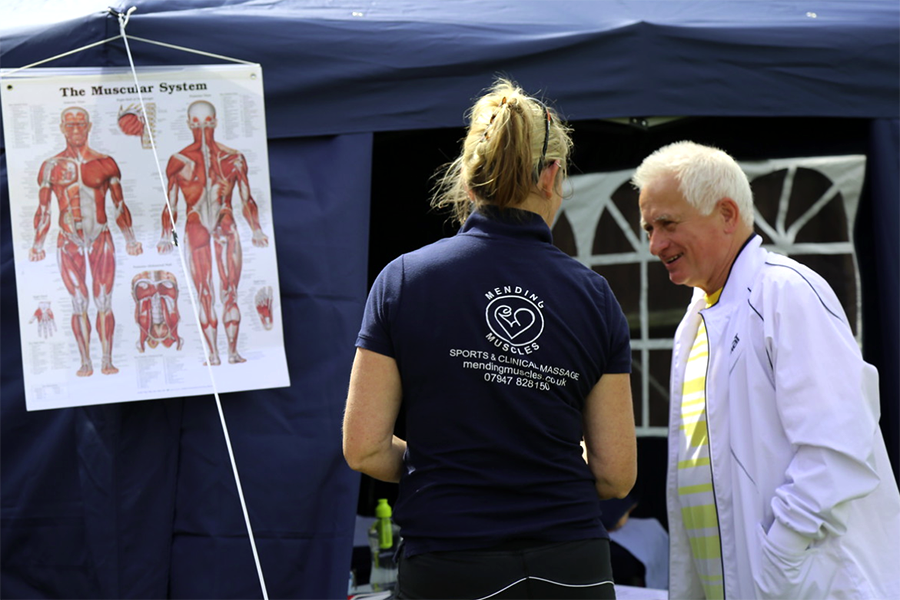 What are you doing now and how did the OSSM course help?
Mending Muscles continues to expand at the salon: I get new clients every week from Google hits and referrals from the salon. I'm also getting existing clients returning which is great to see.
I treat approximately 20-25 clients a week, some sporty, some postural, some injury, some maintenance – but all lovely.
I tend to work first thing in the morning for a few hours, then with a gap when I do my bootcamp/play tennis, admin, walk the dog etc and return mid/late afternoon for 2-3 hours – this way of working gives my hands a chance to rest in the middle of the day, and allows for many people's requests to work outside of the normal working day.
I do two late evenings a week only (Monday and Thursday until 8pm) and still try not to work weekends, only using Saturdays as an overspill if I can't fit someone in during the week
I love working in the salon, the camaraderie is great and I actually prefer working with non-highly competitive sports people as the treatment sessions are less intense and more enjoyable
I have a few ultra-runners, triathletes and one GB development team hockey player, but most of my clients are fun runners, casual gym goers, desk workers or old age pensioners struggling to maintain their quality of life.
OSSM helped me achieve my goals because, from day one, the course and tutors gave me the confidence to know that once out in the tough marketplace, I really would be amongst the elite, both with regard to my knowledge and to my approach to solving clients' issues.
Without appearing arrogant, I do feel like I'm onto a winner, even compared to other level 5's in my area who just don't seem to engage with their clients' bodies and needs in the same way as I have been taught – basics such as testing and postural assessment are not necessarily offered, homecare/rehab suggestions are lacking and I am sure these standard (to me) protocols have enabled me to secure repeat business and monthly maintenance programmes with my clients which has now become the bread and butter of my business, as well as impressing new clients coming to me for the first time.
OSSM also added a number of other modules to the course (i.e. nutrition, building a business) which greatly helped to expand my knowledge on the body, how it functions and what I would need to do in order to promote my services in the field of soft tissue therapy.
Another very important part of OSSM's contribution to my current new life is the extensive emphasis on self care, without which I would already be suffering (posture and using a variety of techniques to limit thumb use is key) and this was monitored and corrected throughout the course by the tutors – as boring as educating a toddler to say please and thank you, but totally necessary to prevent heavy wear and tear on the joints/body which at times is still challenging.
Studying is a big decision, what advice would you give others considering a career change?
Be prepared for the highs and lows of returning to education, especially whilst still earning a living – almost everyone on the course experienced one month feeling totally under control, the next month feeling totally overwhelmed! You are supported really well on the course, but it can be stressful.
Be clear about what it means to become a therapist – this is not a job you can rock up to with a hangover and a bad mood – and your client may well bang on about themselves for as long as you let them, so it won't be about you, that's for sure!
It's never too late – a course like this can totally change your life, like it has mine, and I was over the magic half a century so if I can with a menopausal memory cloud, you certainly can!
Any other comments about studying with OSSM?
I am so delighted I decided to study with OSSM – another option was to head up to London, but I do feel I made the right decision, as the location and facilities were fantastic, parking was easy and the tutor and admin support in Oxford were amazing. I am a happier, more content, more confident and more fulfilled woman than I have ever been in my life and career, and I would do it all again at the drop of a hat, so my thanks will always go to Lisa and the OSSM crew who got me here.
You can find out more about Ali on her Mending Muscles website or on her facebook page.  
Thanks Ali for taking part!
Find out more about professional training in soft tissue therapy with OSSM
We hope you've enjoyed reading Ali's story. If you are interested in finding out more about our professional training in soft tissue therapy, please visit our Introductory Massage Course page or our BTEC Level 5 Diploma in Soft Tissue Therapy page.   
You might also like to follow OSSM on Facebook.